Posted last April 2, 2018, 3:01 am in News
report article
The digital era has seen more technology disruption for businessmen than ever before. Do you think success or failure of a business is entirely based on your entrepreneurship? No! An entrepreneur may be the pillar of his/her business but, to grow, he/she needs a team, good partners, and a growing clientele. The equation of success in today's world is all about balancing the right people who work in the right processes with the help of appropriate technology. Yes, empowering business with technology innovation and digital transformation is always a good practice to assess the learning curve beforehand.
What is the business triangle?
People, process & technology, these are the three main elements used in the entire business lifecycle. The following post completely emphasizes on how one can optimize their business lifecycle and deliver real value. First of all, it is very important to know that a business is an ecosystem, still, most of the companies follow a silo approach i.e. treating each and every area of the business as if they are wholly disconnected from one another. Technologies continue to mount these days but procedures still remain the same. For example- if you misunderstood the concept of digitization for automation then it may lead to suboptimal results. In a simple language, adopting new technology without effective understanding will not provide any fruitful outcome. And unfortunately, this is one of the biggest mistakes several organizations make. The starting point should be what you want, and then one should determine the best technology available to achieve the same.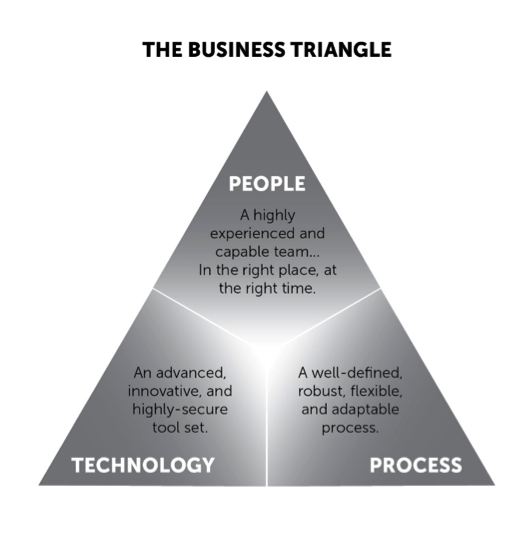 • People- The people and process must also be considered in order for a holistic solution to exist. The people part of the equation represents the user needs. And of course, they can be considered as the ultimate consumers of business intelligence solutions.
• Process- Process, in general, refers to business goals that must be considered to help drive successful change in business. And to make a business effective and holistic, it is very important to keep these three important aspects, the people, process, and technology in alignment.
• Technology- Interestingly the technology implementation requires the hardest dollar costs, and returns the least in terms of ROI. The real value in Holistic BI is in garnering the corporate buy-in, or in other words training the people to make better data-driven business decisions based on the data.
What is the actual scenario today?
Nearly five years back, the concept of cloud was not at all easy in terms of explanation and acceptance. But as more and more individuals and organizations started making effective use of it, they started growing in several ways: finding new ways to make things work, getting used to it without seeing much benefit, using it to innovate and build further. As a result, these developments, especially in the tech domain, have been parallel to the fundamental shift of focus in consumerism, which has moved onto experiences now.
Instead of being a product based company, organizations have started selling an experience. Due to which HR communities have started acting as the intravenous drip that delivers out capability from enterprise to workforce. They integrate digital technologies with experiences for their employees to build the right kind of culture, business, and alignment to deliver capabilities and enhance the workforce experience.
The Key priorities include:
• Foundation/Data- There is an urgent need to build a stable foundation of data to help in better decision making, improving personalization, increasing credibility and making processes more efficient. The main idea is to personalization, increasing credibility and making processes more efficient. In case a merger or dissolution happens, here isn't a need to go back to the drawing board, because you already have an anti-fragile foundation, ready to be amended.
• Workforce experience- It is truly said that people will never forget what you made them feel. The same has never been truer for employees. It is very important for you to understand what excites your employees or what drives them. This will definitely result in providing them a frictionless experience. And do not forget to make this experience interactive. For example, if you offer is a transaction to your employees, and do not embed interaction in the process, the experience will never have the intended impact. Additionally, being empathetic can help you provide the right product to the right people at the right moment through the right channel.
• Automation vs. Digitization- Do you think that the increasing role of technology will reduce procedures or create new ones? Well, not actually! I mean automation can only reduce routine manual tasks but the process of digitalization involves converting adoption of technology into the addiction of the same. The process of digitalization needs to re-imagine work and add unshakable value to it. Moreover, investment and expenditures in digital technology need to be seen in the context of helping people work with better knowledge, collaboration, and analytics.
Author Bio:
Jaymin Vyas works as a Digital Marketing Analyst at Software Application Development Company named TatvaSoft UK. As an out-and-out Google fan, he closely follows all their updates and events. His career progression provides a unique perspective to marketing, having been involved from the ground up with clients, conducting research for them.